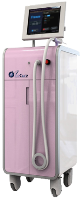 Fibroadenoma of the breast is a common benign lesion affecting women during their reproductive years. Despite their benign nature, fibroadenomas can cause physical deformity due to large size and may produce discomfort or emotional distress in affected individuals.
The traditional management options available to women diagnosed with a fibroadenoma include observation or surgical excision. In situ cryoablation has been developed and is less invasive than surgical excision.
TheraGenesis contributed to the initial development of this technology, which has found wide acceptance among brest surgeons.