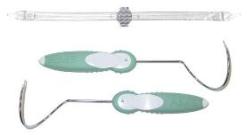 A minimally invasive retro-urethral surgical sling implant for the treatment of mild stress urinary incontinence (SUI) is an innovative new treatment solution for men suffering from mild to moderate SUI resulting from prostatectomy or TURP and who are not candidates for an artificial urinary sphincter.
This minimally invasive surgery can be performed as an outpatient procedure, carried out under spinal or general anesthesia. The sling is placed via a transobturator approach to optimize the sphincter's interaction with the urethra, producing circumferential coaptation. The polypropylene mesh fabric facilitates healing and provides unique features designed for repositioning of the male urethra.
TheraGenesis contributed to the initial development of this procedure.